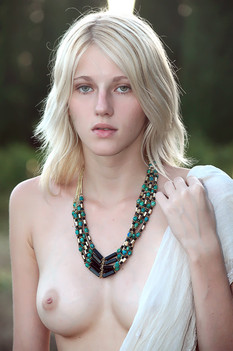 Name: Mila
ID: 18 Rank: 4.45
Age: 19
Hair Color: Blond
Eye Color: Green
Bra size: B
Country: Ukraine
Members Rating:











Mila is a tempting blonde with a graceful, slender body, slim long legs, and perfectly-shaped B-cup breasts that simply beg for attention. She has a great deal of personality, which reflects in the straight look of her crystal clear green eyes, and makes her resemble a real goddess who descended from Heaven to perform some special mission here on earth. And we guess what this mission is - to make all of us feel her unearthly beauty!


redSUN45 wrote (2017-12-16 08:11:07):
Mila is indeed a goddess, she inspires me to stroke my cock, as she is so sexy !
gourekus wrote (2017-12-16 04:36:49):
My personal all-time-favorite; the hottest model here! I know she´s still in business, please bring her back and do many videos! Fantastic girl!
mj1911 wrote (2011-10-16 02:01:17):
What a woman!! A true goddess, as the title of their set. Let them never stop to make photos and movies ..... I love it ...