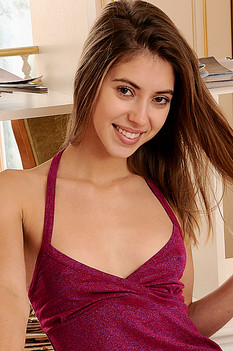 Name: Hanna
ID: 698 Rank: 7.45
Age: 20
Hair Color: Brown
Eye Color: Brown
Bra size: A
Country: Ukraine
Members Rating:











Hanna is one of the cutest 20 year old beauties around Ukraine and she is loved by many. Her gorgeously intense brown eyed stare will strike a feeling of lust even in the strongest of men. Her long hair crowns her beauty perfectly and makes sure that she catches all the guys attention. Nothing can stop her from ruling supreme with astonishing beauty.


Abraxas_II wrote (2019-02-22 15:16:33):
There are no words to describe how amazing Hanna is, I adore everything about her and beg you: Bring her back for more VIDEOS, please! I could never get enough of her!
TillEulenspiegel wrote (2018-12-16 10:34:12):
Avery´s 2 videos are among the best this site has to offer! I have completely fallen for this girl, she is simply too gorgeous! Is there a chance she will return and do more videos?
Balduin wrote (2018-08-14 00:43:35):
Hanna Must be one of the most amazing and stunning girls ever to get naked on the web! I'd give a fortune for more great videos with her!!
Miezenmax wrote (2018-06-01 12:45:58):
Certainly one of the cutest and most adorable girls, not only on this site! She, respectively her videos were one of the main reasons I joined this site. Please many more videos with this goddess!!