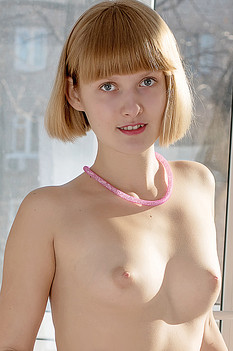 Name: Mak
ID: 671 Rank: 5.88
Age: 19
Hair Color: Light Brown
Eye Color: Grey
Bra size: A
Country: Ukraine
Members Rating:











Mak is kinky 19 year old teen cock gobbler who is always ready for action. She is an incredible teen who lives in the hearth of Ukraine, where she has done many dirty deeds. She has a sweet pair of A size tits and a beautiful pair of grey eyes. Her long brown hair crowns her beauty and makes her into the fine doll you see in front of yourself.


Balduin wrote (2018-08-10 15:58:46):
One word: MAK-NIFICENT!! More videos, please!
msusch wrote (2018-07-11 06:49:18):
I like this girl. Nice breasts, ass, vagina. The public hair is also quite nice, please do not shave it ;)
Miezenmax wrote (2018-06-28 09:33:39):
Enchanting, angelic looks: Mak is a wonderful, classy beauty and she's so very exciting and hot! Videos with her, PLEASE!
gourekus wrote (2017-11-03 17:25:12):
She´s so beautiful, but IMHO she should absolutely shave!