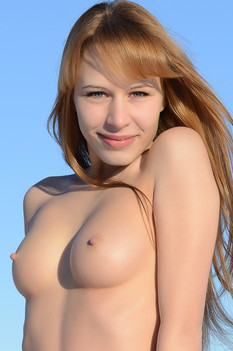 Name: Lina
ID: 182 Rank: 4.45
Age: 19
Hair Color: Red
Eye Color: Blue
Bra size: B
Country: Russian Federation
Members Rating:











The B cup sized, nineteen year old Russian perky titties of this babe just can't be left out of attention. Just look in her deep blue eyes and you will see that her dream come true – she is now nude model and want you to see what have to offer for cameras. Red hair, extraordinary smile, secret in her eyes. She is Lina.


anonymous wrote (2017-12-06 19:47:14):
Redhead or Brunette, Lina is gorgeous and suck-able from her mouth to her Pussy. What a wonderful Lady.
beasho wrote (2015-03-05 21:50:27):
A girl with a beautifully shaped body with nice firm boobs and hard upwards pointing nipples. She has the most wonderful pussy with full bodied protruding inner pussy lips wedging open the main lips and flowing beautifully into the clit cover. A truly great asset deserving to be displayed over and over again and in all possible positions. Thanks Lina may we have more please.