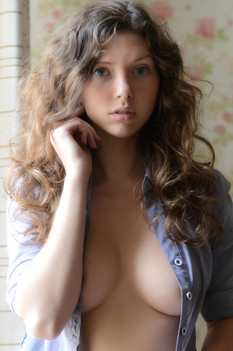 Name: Mari
ID: 146 Rank: 4.56
Age: 18
Hair Color: Brown
Eye Color: Blue
Bra size: C
Country: Russian Federation
Members Rating:











Adorable Mari studies Spanish language and culture at the university. She is very sophisticated and clever, and spends a lot of time reading tutorials and educational materials. Mari likes to act like a true lady, and easily seizes the attention of any man. To try something fresh and unconventional, she decided to take up nude modeling.


tallroy wrote (2013-10-12 15:22:34):
Stunningly beautiful girl, sweet face and a ripe figure! Wow!I hope to see a lot more of her in the future.
anonymous wrote (2013-06-21 13:41:14):

Both Photoshoots are excellent
and the model Mari of course too.

Mari is a very senseous and atractive young women
to look at and to photograph.

Especially the fact that she is dressed at the beginning
of the Photoshoot and slowly undresses herself during the
Photoshoot make it all so special.

Both sets belong to the best of the whole side.
Ngehbej wrote (2013-03-29 23:11:51):
One of the most beautiful women I have ever seen!
wayward wrote (2012-12-14 08:32:24):
Somehow you found your way to the top of Mount Olympus and managed to photograph the very daughter of Venus... Mari is an exceptionally beautiful young woman... could we please see her in a video, and not with music soundtrack... it would be delightful to hear her voice!